Posted
03/31/2014 by McKinley Noble
in MMA Buzz
Why Every WSOF Welterweight Should Refuse to Fight Rousimar Palhares
Rousimar Palhares has rebounded after getting fired from the UFC, but he's apparently learned nothing.
In the run-up to World Series of Fighting 9, the MMA media wheelhouse revolved entirely around Palhares for two reasons: his history with performance-enhancing drugs (PEDs, specifically testosterone) and a frightening propensity for holding onto limb-threatening submissions.
It was the latter of the two that eventually got Palhares bounced from the UFC, when he held on to a heel hook for too long, damaging Mike Pierce's knee and ankle.
(GIF courtesy of Zombie Prophet)
Per the replay, it's easy to see that Palhares didn't obey the referee, holding onto the heel hook a good 1.9 seconds too long.
It's particularly damning that the in-cage official had time to modify his position against Palhares, who should know well enough to let go at the first outside touch.
Considering this was the final straw that lost Palhares his UFC contract, you'd have to think the message really hit home for him. Sure, his last reported salary was a $14,000 paycheck at UFC 134 in 2011, but Palhares also banked a $65,000 Submission of the Night bonus at UFC 142 just a few months later. It's probably fair to say he's not making anywhere close to that in World Series of Fighting.
But once again, nothing's changed.
In his very first fight outside the UFC, Palhares went back to his old ways, holding onto a heel hook that put away former WSOF welterweight champion Steve Carl.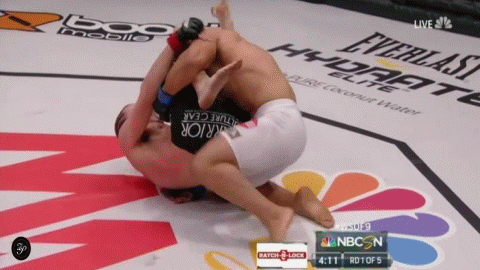 (GIF courtesy of Zombie Prophet via FanSided)
As expected, the finish was dirty enough to draw criticism.
About the only good thing you could say about it is that the referee didn't have time to fetch a crowbar by the time Palhares let go, with the submission broken up at just the second tug of his arm.
Thankfully, some real MMA journalists helped to fill in the blanks.
Palhares by R1 leglock. Nice work by referee Yves Lavigne to separate him quickly but Palhares STILL didn't give it up immediately.

— Brett Okamoto (@bokamotoESPN) March 30, 2014
Rousimar Palhares wins by heel hook yet again and it appeared that he held on for a second too long. Am I wrong?

— Damon Martin (@DamonMartin) March 30, 2014
Palhares is responsible for reputation, so…let's not pretend he's not getting a fair shake when held to higher standard on letting subs go

— Brent Brookhouse (@brentbrookhouse) March 30, 2014
On the surface, it should be pretty simple. If you have to ask whether or not a fighter's submission was held on for too long, it was probably held on for too long. Fans, media and promoters can defend Palhares all they want, but there's nothing more telling than the eye test.
Think about all the submissions that happen at the higher levels of the sport: UFC, Bellator, CageWarriors, RFA, Legacy Promotions, and World Series of Fighting.
Now, think about how often you read articles or blog posts about "problem" fighters who don't obey the rules, endanger their opponents, and receive disciplinary actions for being troublemakers.
Palhares stands out for a reason.
People single him out because it's obvious that he holds onto submissions for too long, and his repeat offender status only makes it worse:
UFC 111: 90-day suspension (prolonged submission attempt)
UFC on FX 6: Nine-month suspension (elevated testosterone levels)
UFC Fight Night 29: Cut from roster (prolonged submission attempt)
Trying to argue it away by saying that fighters "get into a zone" and are simply "super focused" misses the point. Apparently, Palhares exists in a "zone" that runs about 1.9 seconds behind normal human time. All joking aside, it's really a bit disgusting that World Series of Fighting—desperate for stars as they are—chooses to ignore the elephant in the room.
So, what happens now?
Unfortunately, Jon Fitch has already dropped the ball, saying "I have a nail appointment" when just six months earlier he claimed "I'm not fighting that crazy lunatic" (via MMAOddsBreaker).
But if World Series of Fighting's welterweights are smart, Palhares won't defend his title even once.
What if the 18 other 170-pound fighters in WSOF all decided that they would refuse to fight Palhares due to his checkered performances? It's unfathomable to think they'd all be released, and a few of them are reasonably valuable to the promotion. Assuming that any new welterweight signee went the same way, that would leave WSOF stuck with a champion who couldn't defend his belt.
Heck, you could call it a mini-union.
Palhares is still unreasonably dangerous, either too bloodthirsty or too unintelligent to mend the mistakes in his grappling game. In a perfect world, he'd have been disqualified from winning that WSOF title. In a terrible world, this might be his first step back to the UFC ranks.
McKinley Noble is an MMA conspiracy theorist. His work has appeared in NVision, Bleacher Report, PC World, Macworld, GamePro, 1UP, MMA Mania and The L.A. Times. Follow him at @KenTheGreat1 on Twitter.